Call it a case of sour grapes, but I never liked any awards show that seeks to reward creative work. Be it an internal company awards or industry wide ones like Effies and Emvies (in India) or even Cannes Lions (international).  My own experience has been that internal company awards are stage managed to ensure equitable distribution of prizes to please everyone or are heavily biased. In Industry awards, entries made end of the year supported by slick award entry videos with questionable claims abound.  Vague judging criteria compounds the problem of rewarding such non genuine entries.
A few months ago, I chanced upon a couple of reports on WARC which analysed campaigns that won at Cannes and other "effectiveness and strategy competitions". The summary was a revelation. Around half the award winning campaigns had low budgets (< $500k). Similarly, half of the winning campaigns ran for a short duration (ran for <3 months). 80%+ of these winning campaigns used social media and online video and accordingly soft metrics like PR value and  social buzz were the most quoted proof-points. These statistics strengthened what I learnt along the way during my career, many award entries aren't genuine. A few that are, don't move the needle on revenue much, else that's the first metric every award submission would use.
Nonetheless, you do find a few examples of genuinely great creative work. To hunt for such, I started looking through the Cannes Lions entries this year. What I found, sort of reinforced what I've written in the previous couple of paragraphs.
Firstly, in terms of submissions, the press release state that a total of 32,372 entries were received for 2018 Cannes Lions awards from 90 countries for 26 Lions. But the data at The Work, where the entries are hosted, totals up to 31,956 entries.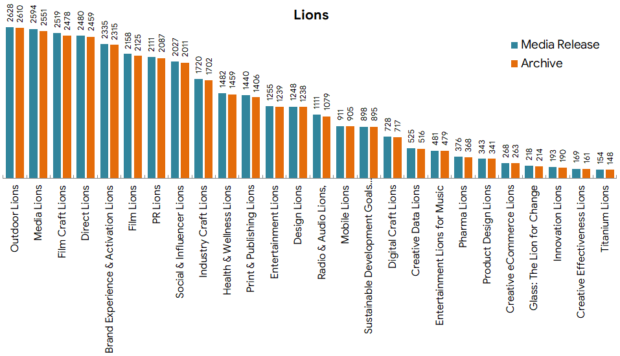 The press releases stated that a total of 1189 Lions were given out.

Press release: 29 Grand Prix, 5 Titanium, 173 Gold, 380 Silver and 602 Bronze.
Data from The Work:
The remaining data in this post is from this compilation (can be downloaded from here). There might be some errors due to compiling and the sector/industry classification was done manually to the best of my understanding.
1600 campaigns were shortlisted for 3449 different awards from which 1189 Lions were given out for 673 different campaigns.

Entries for Not-for-profit/Charity/Government sector contributed to the most number of Lions – almost 1 in 5 shortlists and winners were from this sector.
QSR brands led from the front in terms of shortlists – McDonalds and Berger King were shortlisted for 70+ awards.  It was followed by Nike and Apple with 50+ shortlists.
"Social good"  still remains the go to creative route for awards and 63% of Grand Prix winners had themes around social activism.
The awards continue to remain a "celebration of creativity" with only 13% of the Grand Prix winners mentioning a quantified sales or brand metric as outcome of the campaign. The following word cloud shows the most quoted outcomes in the submissions which won Grand Prix. Hard metrics were less pronounced than soft metrics like PR value, media reach and engagement metrics reflecting

that such proof-points are still good enough to win awards!

One company even wrote in it's entry under outcome, "xxx is a privately held company and does not share campaign or business results."
There were some inspiring entries as usual…

Carrefour's "Black Supermarket" submission, was shortlisted for 20 and won 14 Lions (a maximum this year), seems to have been well planned and executed.
The other unsurprising winners that was P&Gs, "It's A Tide Ad Campaign" and "The Talk" from Super Bowl.
"To The Last Tree Standing" was another standout campaign.

Political activism as a theme won many awards. But, the "Corruption Detector" entry for Reclame Aqui was bold and with elections in India coming up, I do expect a few agencies peddling such and idea to their clients.
The Indian Scenario:
Press releases state that India had as many as 979 entries.
In terms of awards tally, Indian agencies are still far behind, ranking 17th among 52 countries.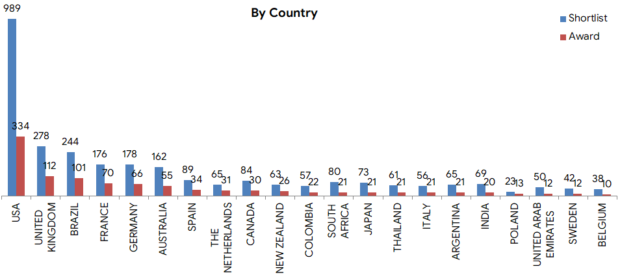 32 different campaigns were shortlisted for 69 awards and 13 different campaigns won 20 Lions. Plus there was a Health Grand Prix for Good which was won by the entry for 'Asha Ek Hope Foundation'.
Mercedes Benz and Johnson & Johnson made 7 shortlists for their  'Madhubani', 'Pattachitra' and 'Warli' and 'Project Free period' entries, it was followed by Asha Ek Hope Foundation's 'Blink to Speak'  campaign which made 6 shortlists.
The Awards tally : 1 Grand Prix, 4 Gold, 6 Silver and 9 Bronze.

85% of these entries had a message of 'social good' and consequently no sales or brand metric of success.
As an aside, I've only noticed 2 ('Samsung Technical School' and '#StandByToughMoms') of these beyond the award circuit and that too on social media.

The Savlon entry which won 'Creative Effectiveness Lions' was interesting in many respects…

It was entered in all submissions as belonging to 'ITC Foods'. In fact, there were 3 entries submitted for this one brand across 29 categories and all mentioned that the brand belonged to 'ITC Foods'! Surely it isn't an error and I think  it has something to do with the tobacco pedigree of the company the brand belongs to.
The entry which won the Creative Effectiveness Lions, "Savlon Healthy Hands Chalk Sticks", credited 10 creative officers or directors and 3 planners!

5 other award winners from India seem to be pro bono work…

Product Design Lions: 'Blink to Speak' for Asha Ek Hope Foundation submitted by TBWA which won a Silver.
Outdoor Lions: 'The Health Purse (Sehat Ka Batua)' for Mahindra Rise submitted by Grey which won a Bronze.
Health & Wellness Lions: 'Project Free Period' for J&J submitted by DDB Mudra which won a Silver.
Health & Wellness Lions:'Noon Assembly' for Kwality Milk submitted by McCann which won a Bronze.
Innovation Lions: 'Good Vibes – Communication Tool For The Deaf blind' for Sense International by Cheil which won a Bronze.

The Mercedes entries ('Madhubani', 'Pattachitra' and 'Warli') which won an 'Outdoor Lions' bronze seemed to be a copy an old creative idea from GE.
The results and scale too are suspect…

'Good Vibes' app entry that won 'innovation' bronze, has only 100+ installs as of yesterday
'Sindhoor khela', 'Project Free period' & 'Sweet Change' are 1 city projects.

The entry video submissions too take creative liberty…

At least 3 different submissions claimed that the PM, Narendra Modi  talked about something due to their campaign. For example, '#StandByToughMoms' entry attributes the PM talk about making sons responsible to their campaign.
Similarly, paid media efforts were mentioned as earned media – Rajdeep Sardesai's news monologues as well as Akshay Kumar's twitter mentions are used.
In subsequent posts, I'll publish a few submissions that I could lay my hands on and talk about them.